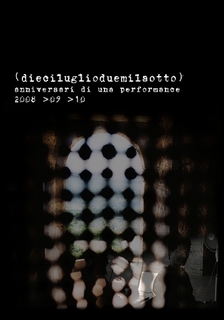 July 10, 2008, the Italian behaviourist artist Cesare Pietroiusti made a performance at MLAC Museo Laboratorio d'Arte Contemporanea at Sapienza University of Rome: the piece consisted in replying to all the questions that were made by students. He also asked to those who were presents to repeat the happening at one year distance. The performance was not recorded on electronic devices: the personal and collective memory was the only trace of the event, except for a few pictures.
Emanuele Sbardella, the curator of that performance, and I decided to accept the challenge and on July 10, 2009 and 2010 organized and curated 2 cycles of re-enactments of Pietroiusti's original piece, performing two ourselves.
Those re-enactments involved people from different fields and experiences, such as artists, curators, photographers, video makers, writers, students and art lovers, who attended the original event or the first re-enactment, creating a community who debated on the documentation and transmission of a performance's memory, of its personal and collective perception, and of the possibility to use of words, images, objects, new media to make a re-enactment that is just not a repetition but a re-elaboration and research on the artistic event.
(dieciluglioduemilaotto)+2, 2010
Curated by Laura Leuzzi, Eloisa Saldari  and Emanuele Sbardella
Artists: Marta Arcieri, Eleonora Carbone, Simone Liuzzi, Luciano Nestola, Eleonora Rovida.